Increnovo's partnership with Gerteis® Maschinen + Processengineering AG
Increnovo's partnership with Gerteis® Maschinen + Processengineering AG (www.gerteis.com) enables the finest, most advanced roller compaction / dry granulation equipment / roller compactor industry wide. With its innovative technological capabilities for design, development, process optimization and manufacturing, Gerteis® is your perfect partner for dry granulation/ roller compaction machines and systems.
Established in 1986 near Lake Zurich, it is now headquartered in Rapperswil/Jona (Switzerland). Gerteis® specializes in the design, development, and production of high-quality roll compactors for the pharmaceutical, food and chemical industries.
State-of-the-art pharmaceutical machinery / granulation machine demands for the dry granulation process, as much more as an alternative to wet granulation, an effective and consistent powder agglomeration / powder granulation process realized in pharmaceutical and other machinery.
A Gerteis® dry granulation machine process all kinds of different powder blends the roller compactor which generally consists of three major operational units. The first step is to convey the powder blend successfully and reliably to the compaction area between the press rollers.
Following is the compaction unit, where the powder is compacted between two counter rotating press rolls by applying a certain force, to form ribbons or flakes. Finally, a size reduction unit, for milling the ribbons into pharmaceutical granules of the desired particle size.
As a result of this compaction process, these pharmaceutical granules ensure a consistent bulk density (improved tap density compared to powder), sufficient flowability, less dust, a homogenous mixture without segregation tendencies in a still dry (no moisture or heat issues) manner for following production steps like tableting or capsule filling process where a consistent weight and dose uniformity is required.
In addition, this roller compaction / dry granulation process has considerably reduced investment and production costs compared to wet granulation. It also comes with less technological complexity and straight forward scale up capabilities. All these technical attributes are of high value in pharmaceutical production, batch, or continuous manufacturing, and enables a speedy formulation development process for new or transfer from wet to dry formulations.
PACTOR® SERIES
Gerteis' premium lineup of dry granulation systems. These Roller Compactors will provide you with an unparalleled flexibility and versatility to handle the most difficult of products.
MINI-PACTOR®
The Mini-Pactor® roller compactor is designed for both laboratory development and for small to medium scale production runs. Roller Compaction is a fully continuous granulation technology; the Mini-Pactor® has capacities from 10 grams per trial up to 100kg per hour, and in technical harmonization with the other Pactor® designs by having identical roller diameters, scale-up is simple and quick, avoiding risks and reducing costs. In addition, the C version of the Mini-Pactor® provides the same great performance of a Macro-Pactor® with the added benefit of a higher containment machine (1µg/m³).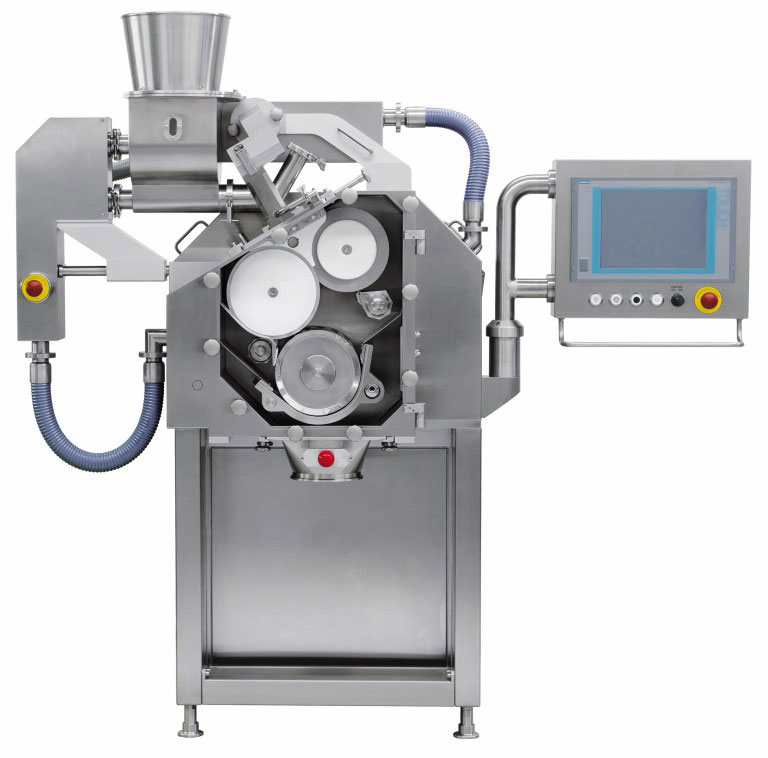 MACRO-PACTOR®
The Macro-Pactor® is the premium Gerteis® roller compactor with output capacity of up to 400kg per hour. However, as a fully continuous granulation process, amounts from as little of 100g can also be dry granulated, making the Macro-Pactor® suitable for development and pilot scale environments. Complete technical harmonization with the other roller compactors within the Pactor® range is assured with identical roller diameters. As a result, scale-up is straightforward, avoiding common problems associated with batch-based processes, reducing material and API costs, and saving time to get the product to market quicker.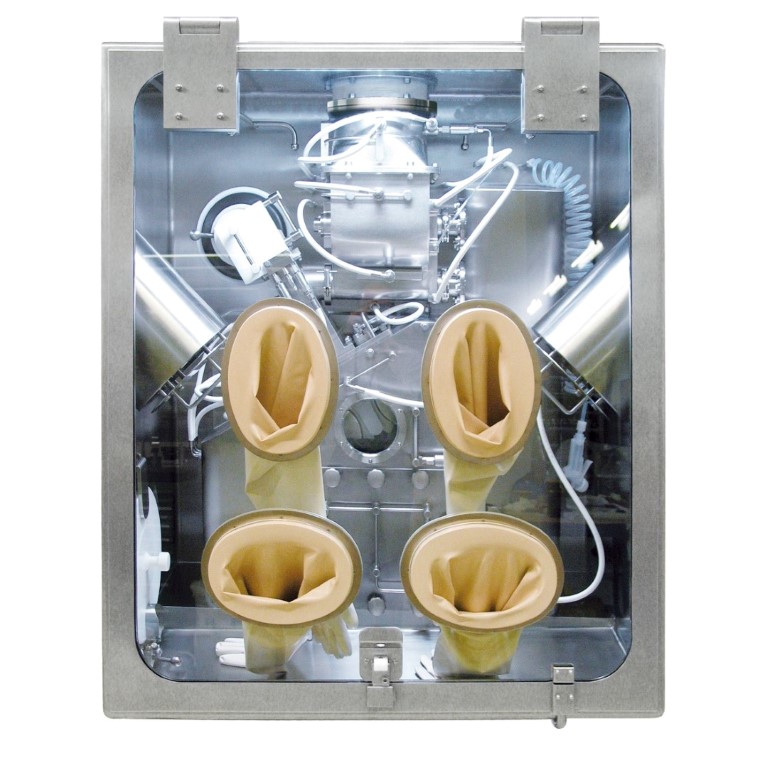 ULTRA-PACTOR®
The Ultra-Pactor® High Containment Roller Compactor is the most technologically advanced roller compactor that Gerteis® have produced. Building upon the well proven Macro-Pactor® – and with output capacities 100g up to 400kg per hour – the Ultra-Pactor® is designed within an ergonomic containment isolator to allow processing of very potent products where high containment is required. In accordance with high containment good practice, the Ultra-Pactor® roller compactor is designed for full Cleaning-In-Place (CiP), so that operator contact with hazardous products is completely avoided.
POLYGRAN® SERIES
Gerteis' basic range of roller compactors. The Polygran® models feature our iconic press roller alignment and are featured with our extensive dry granulation know-how.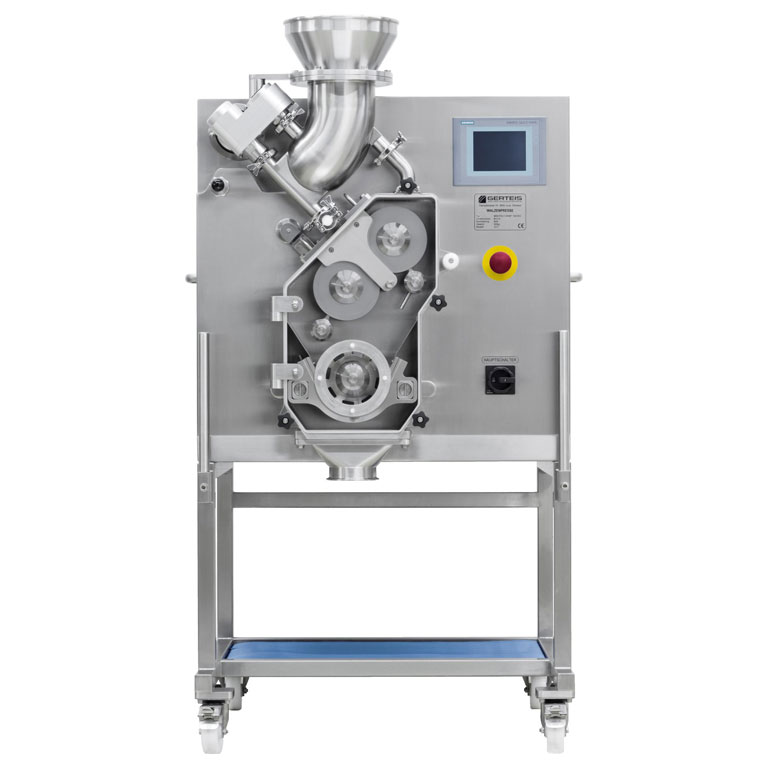 MINI-POLYGRAN®
The Mini-Polygran® is a R&D roller compactor which combines Gerteis' technologically advanced roller compaction technology and the compact design of the Polygran®, with a fully integrated granulation mill. With many of the unique roller compactor technologies of the Pactor® range included, the Mini-Polygran® offers an outstanding opportunity to successfully develop dry granulation formulas with excellent dry granulation results assured. With a capacity of 10g up to 50 kg per hour, the Mini-Polygran® is the essential dry granulation development roller compactor.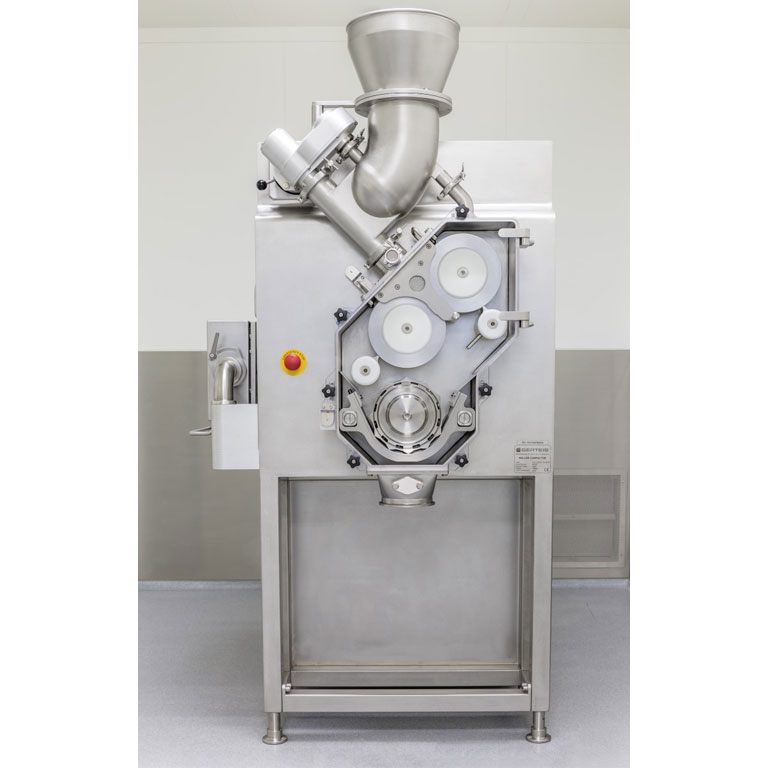 POLYGRAN®
The Polygran® roller compactor is the entry level Gerteis® roller compactor. With many of the unique roller compactor technologies of the Pactor® range included, the Polygran® offers outstanding value for money for such a sophisticated roller compactor that will deliver excellent dry granulation results. With a capacity of 500g up to 300 kg per hour, the Polygran® is suitable for both development and production environments.
Learn More
To learn more about this next-generation Gerteis® equipment and how it may benefit your company, please contact us here.
For more news and information on Gerteis, visit their website: https://www.gerteis.com